Sexy Wedding Photos
People familiar with my work know that edgy, sexy wedding photos are kind of my thing. Of course, at every wedding, I'm trying to tell the story from start to finish. I am not simply trying to chase down the sexiest iconic shots. They're just the icing on the cake.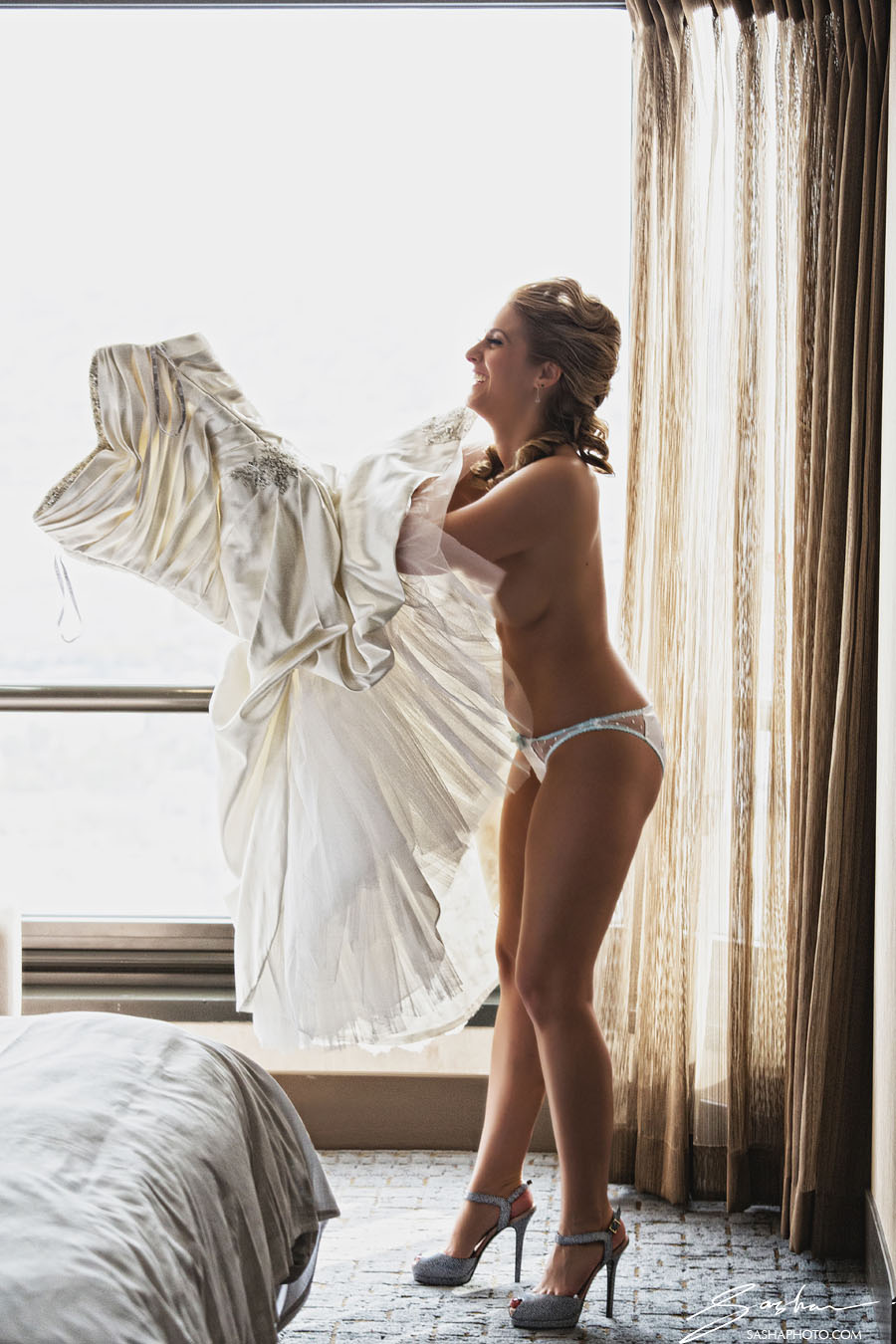 Let's be honest: in pretty much every culture, the wedding is meant to elevate and idolize the marrying couple. Everyone I've ever met has wanted to look their absolute best on their wedding day. I certainly did! My wife and I began a pretty intense exercise routine about six months before our wedding, and we are not alone. So my mentality is: I am not going to let those months of pre-wedding diet and exercise, clothes shopping, hours of spray-tanning, hair and makeup, etc, go to waste! I know that my couples worked hard to look amazing on their day, and I want my photography to do them justice.
Here's the catch. A true professional wedding photographer must be sensitive to the needs of the couple, and the guests around them. Yes, there are many couples that would love to have sexy wedding photos, complete with all kinds of PDA's, all day long. But there are also couples that come from a conservative upbringing, or at the very least don't want to show so much physicality in front of their families and guests. It's my job to know and respect the difference.
Let's Get Physical
Let me share one of my biggest personal pet peeves about wedding photography. These days, with nice cameras and such, anyone can take a decent photo of a bride and groom standing side-by-side, or kissing, and call it a "wedding photograph". Yes, that's true. It technically is. I capture those photographs as well in the course of a wedding day. But there are many creative and interesting ways to find connection between two people. Moreover, there are ways to connect a couple that can flatter them. Find a new spark. Authenticity. I look for ways to unite my couples in photographs that are unexpected and meaningful. Connection doesn't simply mean holding hands or locking lips. Other body parts are sexy. A bit of exposed skin is sexy. The way fabric moves is sexy. Hair is sexy. Fingertips are sexy. Shoes are sexy.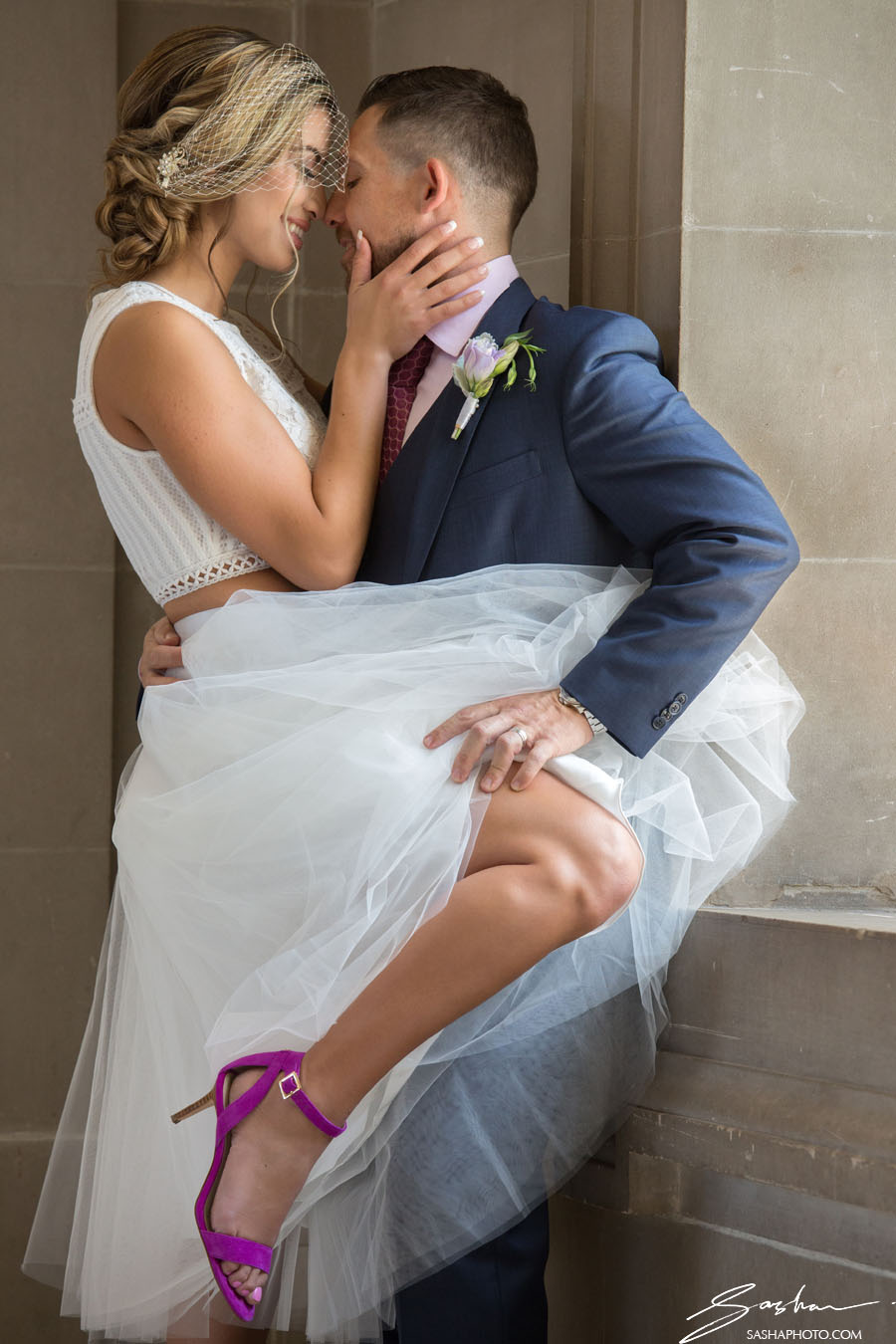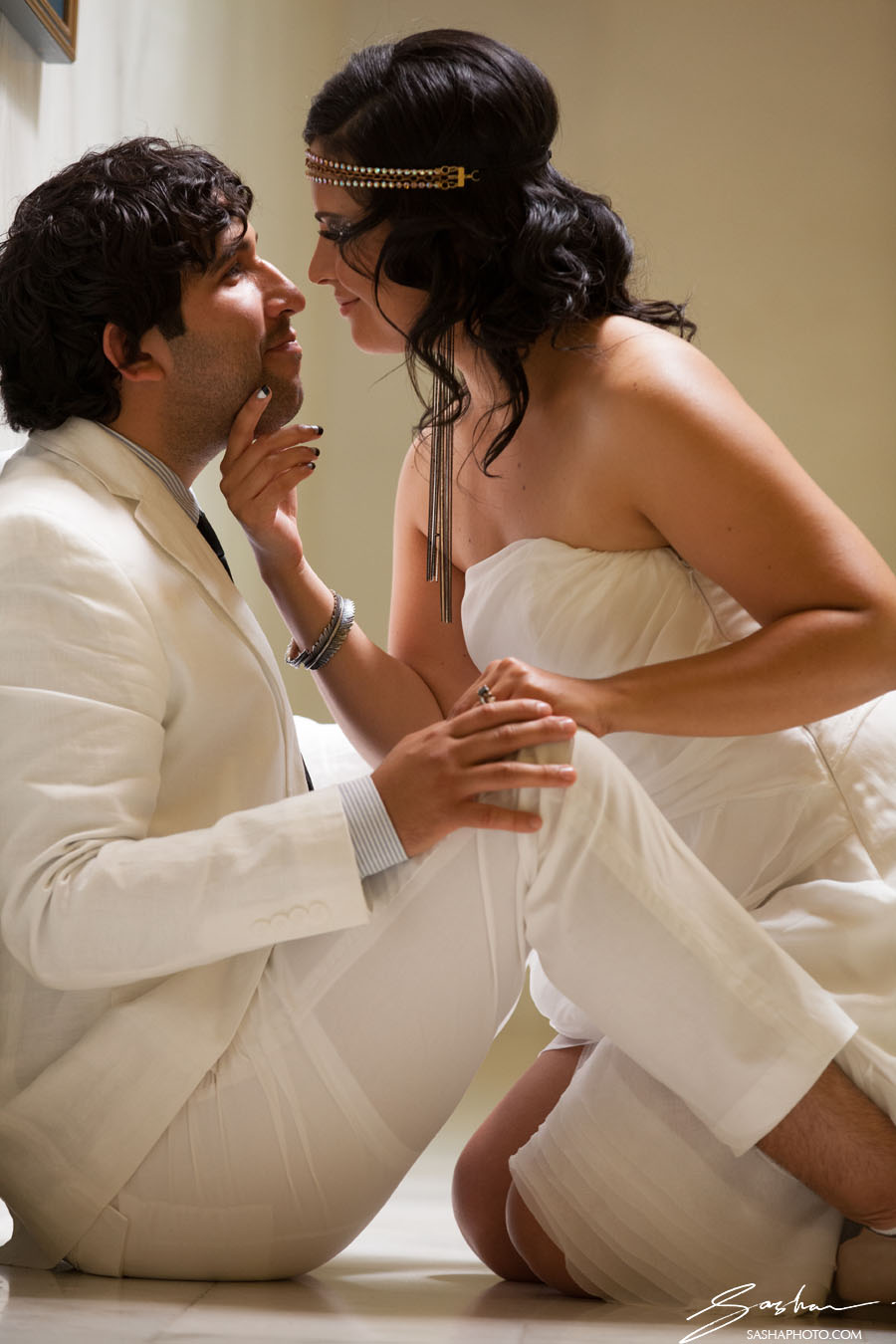 Kissing is Overrated
There, I said it. I am not a big fan of "first base". One of the most obvious ways to show a romantic connection in a couple is to capture them kissing. But because it's so obvious, it's also incredibly predictable. Moreover, for 90% of people, the kiss itself is not a very flattering moment. Yes, it always looks great in Hollywood films, and YES, there are actually couples that have practiced their first kiss many times before the ceremony. I can usually spot them. But for most ordinary people, a kiss involves smushed faces, awkward mashups of features, and sometimes a bit of drool. Usually when I create or capture kissing shots, I am looking for the moment just before the lips touch, or just after they part. That tiny space between the two sets of lips gives the features a chance to relax, but the sexual tension and romance remain. You can definitely create sexy wedding photos without literal kissing.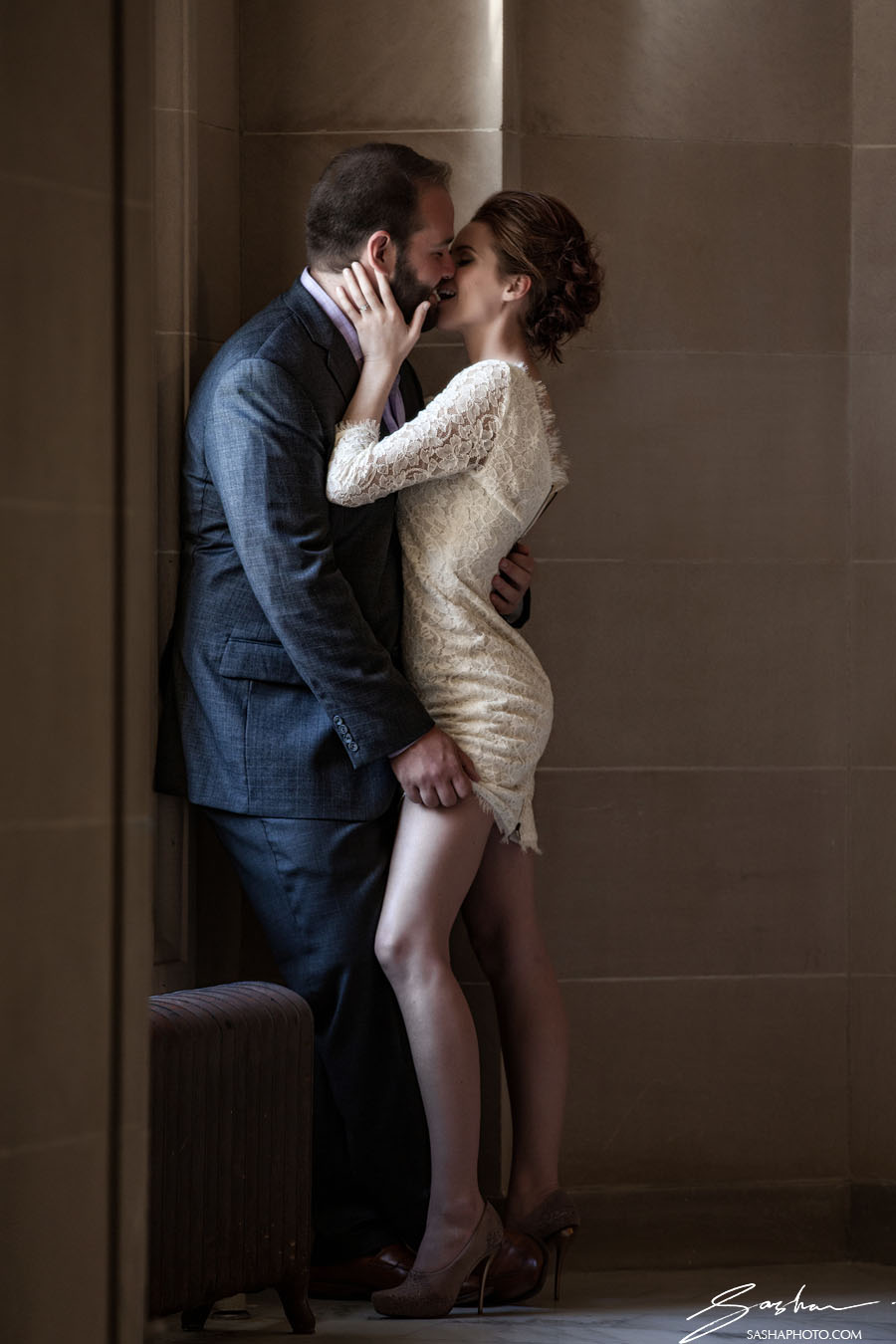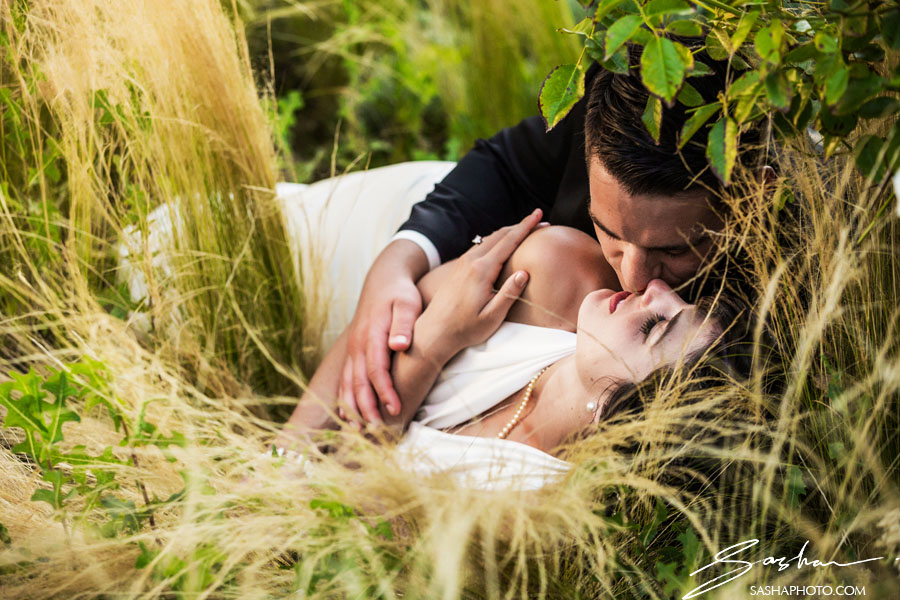 Shadow Me
The common adage is that "photography is all about light". Well, that's technically true, but I would argue that sexy wedding photos are all about shadow. Light literally illuminates things and makes them more prominent, while shadow HIDES things. Got an unflattering flap of skin, or a facial feature you're not crazy about? Put it in shadow. Also, shadow creates mystery, and mystery is pretty critical to romance. Silhouettes and semi-slihouettes are one of the best ways to take advantage of shadow play. I am always careful to pose my silhouette shots just so. A slight turn of the head, bend of the knee, even a deep inhale or exhale can make all the difference.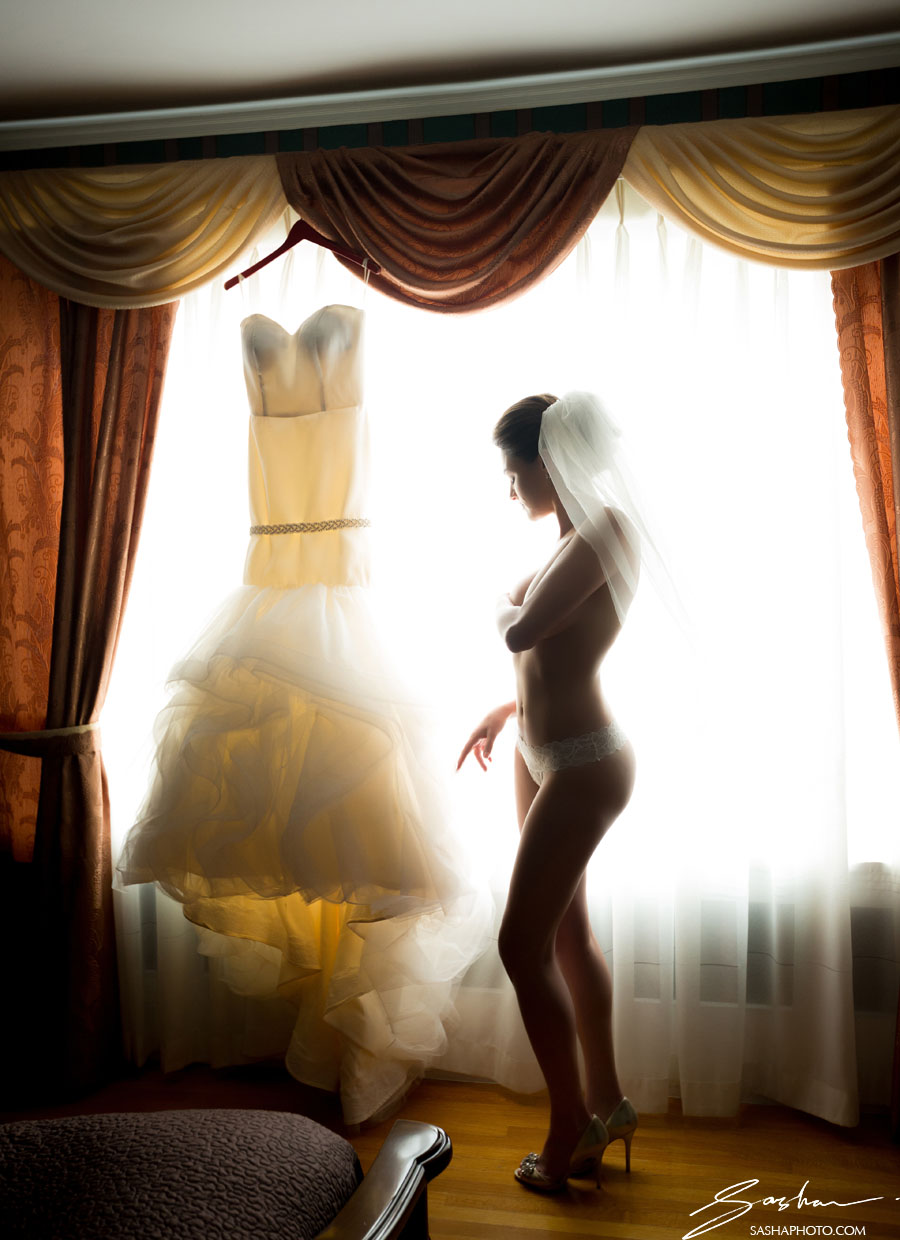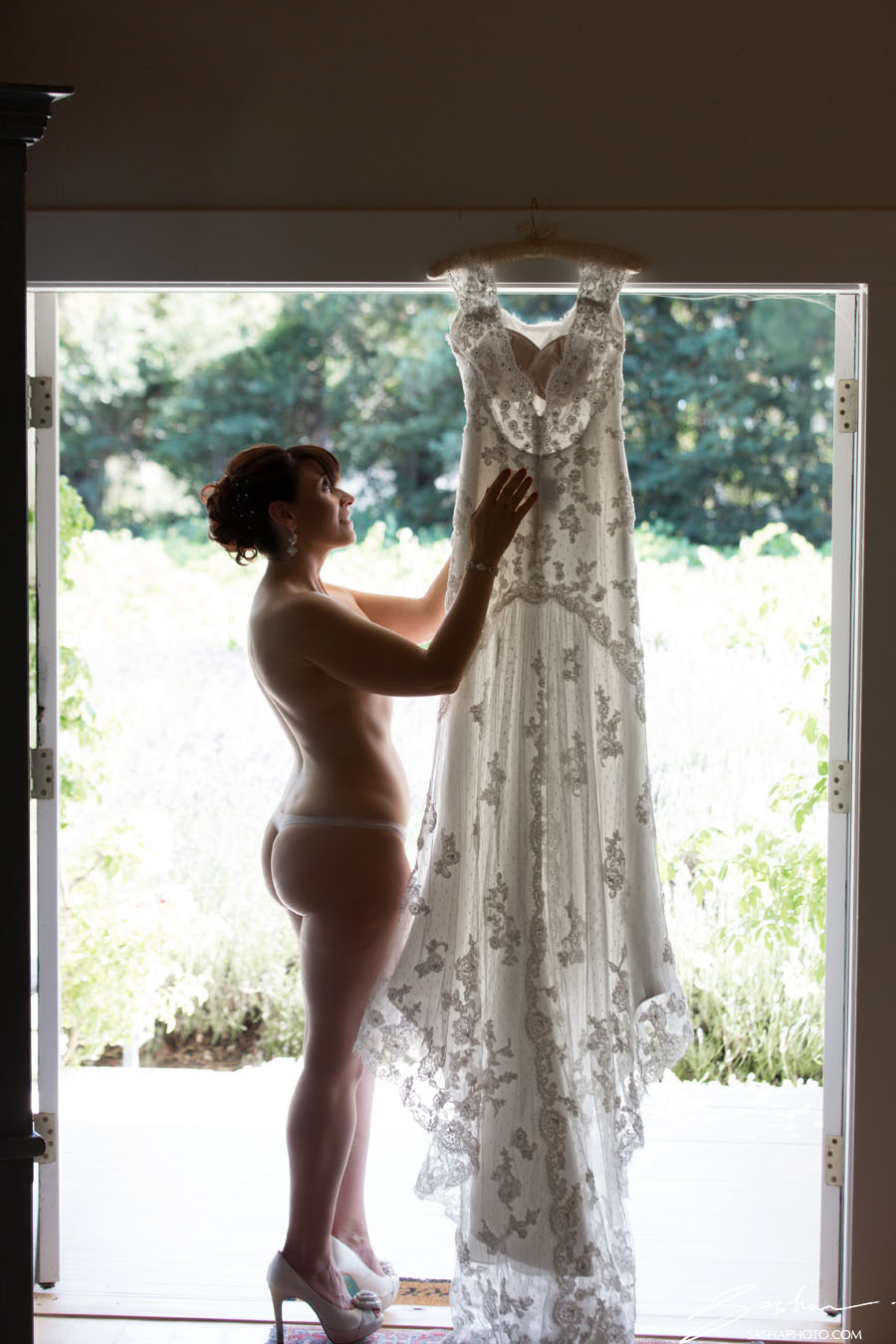 Trust
I believe it was the prophet Nas that said: "And if I can't trust you, the fuck is you here for?" Trust is the foundation of my work. My clients trust me to show up on time, to capture the moments, to bring out the best in them. All of my actions in my relationships with my couples before the wedding day will lay the groundwork for trust ON the wedding day. When a bride is getting changed into her dress, for example, I will always ask if she'd prefer I step out of the room. Some brides will ask me to leave. Others will invite me to stay and keep photographing. I respect both decisions. Some of my most iconic sexy wedding photos have happened when the bride asked me to stick around.
One of my most memorable sexy wedding photo stories involves pajamas. I showed up to the bride's preparation room to find her in the makeup chair, clad in baggy PJ's. Not a sexy choice for a pre-wedding outfit. But I saw the possibilities, and I knew that we'd have this one chance to capture an iconic shot. This bride trusted my instincts and went with my idea. The result speaks for itself.
Understanding Cultural Boundaries
I am fortunate to be a professional wedding photographer in one of the most diverse places in the world. Both in the SF Bay Area and abroad, I've documented unions between many different cultures and religions. I've photographed straight weddings and gay weddings. I've learned to respect that while some people are comfortable with showing affection in public, others prefer to be more conservative and subtle about their physical connection. For example, I recently traveled to India to document a multi-day wedding there. Over the course of six days of wedding festivities, I think I saw the couple kiss once. It was important to understand that showing overt affection in front of their families was not encouraged there, and I respected that. Sexy wedding photos were not to be at this wedding.
Just because there's not overt physical intimacy in a photograph, doesn't mean that romance is dead. For example, I worked with a reserved Korean couple, and I believe their romance actually manifested as shyness, almost reticence. When I took the photo below, I wanted to add a special ingredient that would introduce more intimacy into the picture. Even though they're only holding hands and gazing at each other, I chose a scarlet red background to suggest the unspoken desire between them.

I also worked with a gay couple several years ago that came from a small town in the midwest. Even though they were getting married in San Francisco, I could tell that they were not comfortable showing affection. We talked about it. and they explained to me that in their hometown, it's just not something they usually did. As a professional wedding photographer, I have to observe people and sense where their energy is directed.
TLDR;
People expect to look and feel peak sexy on a wedding day.
Regardless of how intimate it is, a couple's physical connection on a wedding day is hugely important.
The connection doesn't have to be as literal as "kiss" or "hold hands".
Literal kissing is not always flattering. There are many way to get creative.
Shadow is your best friend in creating romance, mystery and flattering images.
You have to earn your clients' trust if you expect them to allow you into the boudoir.
Understand and respect cultural boundaries with physical affection.